Memories of Malpas, Newport, 1938 - 46
By Peter Capnos
who lived in the South Lodge of Malpas Court 1938 - 1946
My Earliest Memories
My very earliest memory was that of the South Lodge of Malpas Court in Malpas on the outskirts of Newport. This was said to have formerly been the groom's lodge of what had been a grand country estate. Originally this had been built for the Prothero family. This was also sometimes known as the New Lodge as it had been built some years after the North Lodge and was much smaller, having only one floor. It had a huge garden with eight horse-chestnut and two very productive walnut trees in the garden and a small thicket to the side. The front was approached through huge ornate iron gates as befitted country houses of the late nineteenth century and the drive ran to the Court to the left of the Lodge although that had become disused. All the ornamental iron work was taken away for the war effort shortly after hostilities commenced. I was born in this house in 1938 and the earliest years of my life were spent here.
My mother, Eveline and father, Anthony, had rented this house from the time they were married in 1936 and it had been destined for demolition for the widening of the main road to Pontypool and Cwmbran. It had been agreed that they would be able to rent the house for seven shillings and sixpence a week (thirty-seven and a half pence) until such time as it was demolished. The projected work got so close that the proposed carriageway line of the new road reached to a point just in front of the house when the drill hall was built and was never completed due to the impending hostilities, although in the sixties the road widening did take place but on an amended line, taking most of the land from the right hand side of the property but leaving the house intact.
The house itself was quite small with two rooms to the front, a living room and a kitchen with a larder with a big stone slab to keep things cool. In the corner was huge copper boiler built of stone with a fire underneath it to heat the water. This would be used to do the washing and heat water for the bath which was also in the kitchen and concealed beneath a folding table top which would be raised when the bath was needed. There was a yard outside with a coalhouse and next to it was the toilet – cold and wet to visit in winter! My father eventually bought the house where he lived until his early death in 1967.
I suppose it's difficult to get things in accurate chronological order as time probably erodes accurate recollection but I will try to get things in the best order I can.
My Family
There was no shortage of family. I had my grandmother, Daisy and grandfather Morris Pugh from my mother's side living just down the road in Gothic Cottages – they lived in number 2 and there were only numbers 1 & 2 and these were numbered with lower number towards the Cwmbran.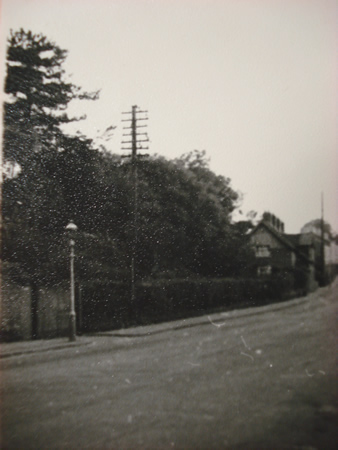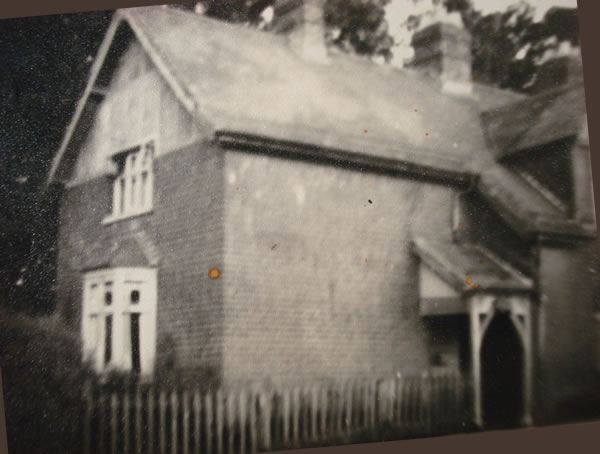 Eventually, in the late forties or fifties her house was renumbered 495 Malpas Road. I believe these two houses originally belonged to the Malpas Court Estate. (These properties were demolished in the late 60s for the inevitable road widening and the site which they occupied now lies under the north bound carriageway of the A4051.)
With my grandparents, lived my uncle Brin, my mother's brother who was always considered to be "frail" and was born with only one eye. He worked for the Great Western Railway as a porter whilst my grandfather, Morris a carpenter after whom my second name was given, worked for the Star flour mills in Newport after many years at sea serving as a ship's carpenter.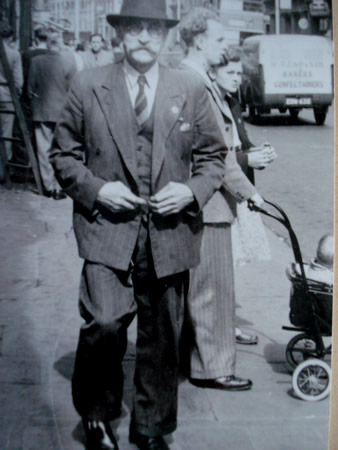 My paternal grandfather, Peter after whom my first name was given, lived just up the road from the lodge with his second wife, Rosa, in what I believe was originally part of the stables of the Woodlands Estate and just opposite the North lodge of the Malpas Court Estate. They occupied the corner of the building which fronted onto Malpas Road and what is now Woodlands Drive although at that time was a unmade lane. He was Greek and had come to live in Newport in the 1900s. His family had lived in Smyrna (now Izmir) which had become part of Turkey. Following widespread unrest between the Turkish and Greek population he and a friend decided to migrate to the United States. The ship docked in Newport en route to New York and my grandfather decided to remain in Newport where after some time as a merchant seaman. He set up a tobacconist shop in Commercial Road and later becoming a naturalised British citizen. His first wife Rebecca, my father's mother had died young - see the photo below of the funeral cortege complete with horses outside the shop. Her parents, my great grandparents, the Maddocks family had lived in the Pill area near to the Docks. I believe that there are still members of the family living in the Pill area although I have lost touch with that part of the family. My father was born in Newport in1911.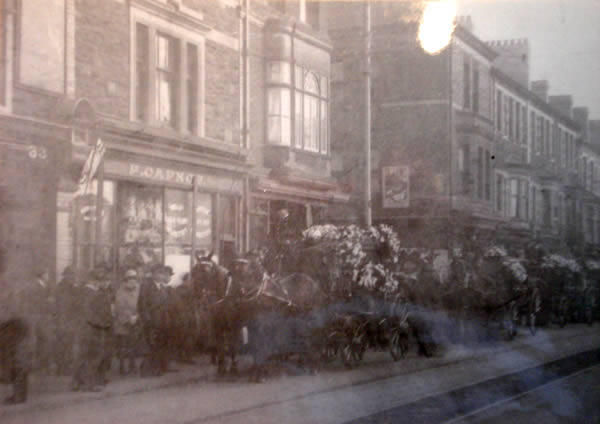 Early Memories of Life in Malpas
Life in the area was still very rural. Our milk was delivered in a pony and cart and decanted from a churn into a large pail with a lid and with measuring ladles in pints and half-pints hung on the side from which the required quantity would be dispensed into a jug left on the doorstep with a saucer placed over the top. The milkman was Mr. Pearce whom I believe worked for the farmer, Mr. Thomas who kept the old estate home farm which lay between the north and south lodges. Mr. Pearce would sometimes lift me up into the cart and give me a little ride behind the pony.
I can still remember the farmhouse which was demolished shortly after the war. There was a large kitchen/living room with a stone flagged floor and an enormous fireplace which always seemed to have a fire blazing winter and summer with a big black kettle simmering away. At ninety degrees to the fireplace was a massive settle which served to keep the draught from the door off you during the winter. The room was lit by a couple of gas brackets mounted on the wall with their mantles glowing brightly. There was no electricity in the farmhouse and the house was illuminated by either gas brackets downstairs or oil lamps upstairs. Leading off this room was the kitchen with a large black coal fired cooking range. Opposite was the kitchen sink. This was made of wood and was served by a hand pump which if not used for a while would have to primed with water before it would operate.
Despite the fact that Mrs. Thomas always seemed to be cooking, and the house always seemed to have the smell of freshly cooked food when you walked in, I can only ever remember Mr. Thomas eating bread and cheese. Whatever he was offered, he would always say "No, I'll have a bit of bread and cheese thanks."
In the farmyard, was a Morris (or possibly a Wolseley) car which was covered with a tarpaulin and jacked up on blocks as by now the war was under way and civilians couldn't get petrol to run private cars so this, what was then an almost new car, was destined to spend its time during the war mixing with the cattle waiting to be milked in the cowshed and the various pieces of machinery which were scattered around the place. Mr and Mrs Thomas used a pony and trap to travel around the district and sometimes they would take me out for a ride on a Sunday afternoon usually towards Cwmbran. They would sometimes stop and let me look over the railway bridge in Llantarnam which had an extremely low parapet. I can't ever recall actually seeing a train!
On the side of the farmyard opposite the farmhouse was the dairy. After the cattle had been hand milked by the land army girls who had by now been drafted onto the farm, pails of milk would be carried across the yard still warm and would be emptied in to a tank on the cooler. This was a piece of equipment which had water running through it and the milk would run down the front of it over a surface resembling the face of a washboard and be collected at the bottom colder than it was at the top! Milk would then either be used for delivery by Mr. Pearce or it would be made into butter by another piece of equipment in the dairy. This was an item similar to a vertically mounted barrel on a stand with a handle on the side. By turning this handle for considerable periods of time, the milk would eventually be churned into butter. I remember, there was a clear window in the side of the barrel through which you could peer and examine progress.
With food rationing in force, the farm became our source of good fresh food – much of it probably illegal. When a sow would farrow the number of piglets declared to the Ministry would be fewer than those actually born. These, like lambs which were similarly "miscounted" would eventually be slaughtered and provide unofficial supplies for those who were to be trusted. I suppose we were quite lucky in this respect. In the early part of the war with some meat, bacon and cheese available from the farm and eggs laid by our own chickens and the occasional one going to the table, we probably ate better than a lot of people. Our official egg ration had to be forfeited because we kept chickens. We did however get an official corn ration with which to feed the chickens.
One area where we did go short was coal. This was not only short and rationed but was also comparatively expensive. Shortly before the outbreak of the war, the government had decided that some estate land opposite the house was to have a military drill hall built on it. I can remember the work of constructing it. I would wander around the site bringing things home which I shouldn't have. I can remember bring home a chimney cowl one day and my mother being very angry. She made me lug the thing back and put it where I had found it! It wasn't bad going though because I was only about three or four years old at the time.
One bonus which came from the construction work was the fact that as the first part was completed, the army moved in and they had huge pile of coal to heat the part that they were using. Whilst the rest of the work was under way, the night watchman a very old (to me) man called Mr. Broad would patrol the site to prevent theft of materials and he also kept his eye on the Army's coal which was in the yard with other machinery. Now Mr. Broad was an unlikely candidate for a watchman as he couldn't move very fast as he only had one leg having been injured in the First World War or as people at that time called it "The Great War". He walked on a wooden leg attached to the stump of his leg and assisted by a crutch. My mother became quite friendly with Mr. Broad and he would come in to the house some evenings for a cup of tea and a chat with my grandfather Pugh who used to come up some evenings. Sometimes they would play cards together. My mother would then sneak out of the house whilst Mr. Broad and my grandfather were otherwise engaged, wearing her dark coat and carrying a bucket. She would then sneak across to the drill hall under cover of the blackout, head for the coal pile and obtain a supply of coal. Sometimes, she would make a couple of journeys. She was always very careful as the army used to cover the coal in whitewash so it could be noticed if any was removed. She was too clever for them! She would carefully lift the whitewashed coal off the top, fill the bucket, and then replace the white coal. All went well for quite a while until one night she was just climbing over the low stone boundary wall when a hand descended on her shoulder and a voice boomed out, "I've got you my lad". It was the local policeman whose name eludes me. Fortunately the bucket was out of sight behind the wall, and as soon as my mother spoke and the policeman recognized her, he apologized profusely after she told him that she had been out for a breath of fresh air whilst her father and Mr. Broad played cards. After explaining that it was suspected that coal was disappearing from the drill hall and that they hoped to catch someone in the act he came back home with her and had a cup of tea and joined the card school. My mother sneaked out again and recovered the bucket of coal from behind the wall. She always took great care from then onwards! They would frequently play cards to pass the time during the blackout.
Sometimes when there was an air raid warning, we would sit on the front steps of the house and watch the searchlights seeking enemy aircraft and sometimes there would be flares dropped by the aircraft in an attempt to illuminate their target.
In trying to get a feel of the area, mention should be made of some of the other local places which influenced Malpas at the time. Right opposite the drill hall was St. Josephs nursing home which was run by nuns who could be seen carrying wicker shopping baskets as the went about their business. This particular order in common with most at that time wore very elaborate wimples which to a small boy seemed like big wings growing off the sides of their heads.
Adjacent to St. Josephs, was a large country house occupied by Mrs. Pemberton-Steer who would ride her horse up and down the road with an air of ownership of all she came into contact with! I remember on one occasion my father said that she had hit him with her riding crop because he failed to get out of the way quickly enough when she was riding her horse along the side of the road.
Just up the road stood The Woodlands, another large house and which had been split up into several dwellings. One of these was occupied by the Jefferies family, the son of the family being Peter who became a friend.
Almost opposite the South Lodge was Woodlands Lodge (the site of the filling station) where the Lamont family lived. Mr. Lamont was a police inspector and was always looked upon with great awe and respect as were most people in positions of authority.
Malpas Court and the War
Of course, the focal point of the area around our house was Malpas Court itself. This neglected mansion had been a splendid country house in its day but like so many similar houses had fallen onto harder times having lain empty for some years apart from a man who lived in it as a caretaker for the owners. This house stood just beyond the Home Farm already mentioned and at the outbreak of the war had been commandeered by the military. The house had become some sort of military administration headquarters and a great deal of land became a military camp for the British and Commonwealth armies.
Whilst the officers appeared to live quite well in Malpas Court itself, the rank and file were accommodated under canvas with acres of tents.
Large areas of land were used for the gathering of military resources such as trucks, tanks and field guns.
A petrol dump was set up not too far from our house. There was a mountain of petrol stored in large square tin cans which would be punctured when needed and the contents simply poured into the vehicle which was being re-fuelled. All this was dangerously close to the house. Heaven knows what would have happened if it had been hit by enemy aircraft. To avoid theft and probably sabotage, this storage area was surrounded by barbed wire and guarded by armed sentries who would patrol the perimeter (sometimes smoking!).
As the army became more entrenched, the farm ceased to operate in the same way as it had before the war. The dairy was closed and the shiny cooler disappeared and the cattle were taken away, although the fields continued to be farmed for arable crops.
I can remember going out with Doreen, one of the land army girls who was one of my mother's friends, during haymaking. All the hay would be dried out in stooks on the field and then loaded onto a trailer with pitchforks and when there was full load, which seemed to be the height of a double deck bus, we would all ride back to the farm on the top. I would be passed from the ground by one girl with my arms outstretched to Doreen who was already on the top and who would lie on her stomach over the side of the wagon, take my arms and pull me up onto the top of the hay. Then we would ride back to the farmyard surrounded by sweet smelling hay. Back at the yard, the pitchforks would propel the load onto the hayrick where it would be sheeted over and stored until needed.
Soldiers stationed at the camp became a common sight around the area. Some would go drinking at the pub, I think it was called the Three Horseshoes in Pillmawr Road, others would go into the centre of the town when they were allowed out of camp. Most didn't stay for long as they appeared to be moved away fairly quickly – presumably being sent overseas. It would be nothing to see long lines of trucks and tanks lined up arriving at the camp only to leave again a few days later. Sometimes there would be long lines of troops marching in step. Presumably they had arrived on troop trains at Newport station and marched to the camp. The columns seemed to take an age to go past. At one stage there were Ghurkas arriving and going away again. It was quite eerie when they marched because their footwear was very soft and they could hardly be heard whereas the British troops could be heard tramping up the road long before they appeared.
Some soldiers were quite pleasant and chatted to me as I would sit in front of the house. Others were not quite as pleasant. I remember one who took the pear which my mother had given me. I was just about to take a bite when it was grabbed out my hand and a big bite taken by a passing soldier. I suppose that most of these young men were conscripts away from home for the first time.
There were conflicts amongst themselves sometimes. If they had gone into Newport and travelled on the corporation bus service, the terminus for the number three at that time was at Pillmawr Road by the pumping station and they would have to walk back to the camp, sometimes rowdily. Of course it would be pitch black at night so you could hear a lot of noise but see no-one.
It was so dark that to turn the buses around at Pillwawr Road, the conductress (there were very few conductors) would walk behind the bus as it reversed, signalling by blowing a whistle when the driver should stop. If I remember correctly, some of the buses were Daimlers with fluted black painted radiators with chrome showing through in places and I was told when I asked, that they had been painted black to stop them reflecting in the blackout.
Some of the buses had bumpers on the rear of them and children would frequently run up to a bus as it pulled away and jump onto the bumper, holding on to the platform handrail to hitch a ride jumping off again as the bus gathered speed.
There were other buses which ran past the house and camp but they were less frequent and more expensive. Western Welsh ran bright red single deckers whilst Ralphs ran cream single deckers with a sliding door halfway down the vehicle. Ralphs buses were more luxurious than the more utilitarian Western Welsh. All the Western Welsh seemed to have registration numbers which were BBO xxx displayed at the top of the rear offside window and were probably fairly new at the time.
Shopping - Ration Books
My mother and I very rarely used anything other that the corporation buses and we would usually visit my grandmother when we walked to the bus terminus. We would make a journey into the centre of Newport quite regularly as there were virtually no shops nearby which sold groceries and other provisions.
Because of food rationing, shopping could only be done at the grocer or butcher with whom you were registered. In our case, this was in Newport market which formed a block between the High Street and Dock Street. It was a place which excited a young boy. The ground floor was always covered in sawdust and had aisles of various shops most of which sold groceries, meat or fish (although not very much of any it!) and were not really very interesting. The upper floor was a different matter. Here there were stalls which sold kittens, rabbits and chicks cheeping away besides one or two other live animals from time to time. I would look at the animals and my mother had to almost drag me away to join the queue for the groceries and invariably there was a queue as there was for most things. I would stand impatiently wondering if we would ever get finished. The grocer had a hand of artificial Fyffes bananas hung up from before the war presumably as an advertisement. I really couldn't understand what a banana was but always wanted one, probably because I couldn't have one! After the ration books had been handed over, buff colour for adults, green for infants and blue for juniors, and the coupons cancelled, all the shopping which was obtainable that day and which wouldn't fit into the shopping basket, would be put into a brown paper carrier bag with string handles and carried back to Malpas. If it was raining, there was always the danger that these bags would get wet and just disintegrate scattering the shopping n the pavement.
Visits to the shops were always a hit and miss affair. Sometimes there were supplies of items other times there was almost nothing available. There would be long queues if word got around that a shop had supplies of something which was short but not rationed such as number eight batteries for torches or clothing which was on ration but for which you did not need to register with a specific retailer. People would queue for hours only to walk away with nothing.
Woolworths in Commercial Street was always an interesting place. Although not heavily stocked they did seem to have more bits and pieces than most places. Mother would buy sticks of shaving soap here. Shaving soap was on of the few items not on ration and she would use this as a substitute for normal soap. It wasn't as good but it was better than nothing. Ordinary soap was used very carefully. Little scraps left at the end of a bar of soap would be collected then pushed into a small dish and when there was sufficient, would be got wet and soft and forced into one lump to make another misshapen tablet.
Shortages were such that practically anything which was worn out could be given a new lease of life. An army blanket cadged from a soldier was cut and tailored into a warm coat. Parachute silk was a luxury which was highly prized. Someone would acquire a parachute from someone else who knew someone somewhere who could get their hands on one and it would be carefully taken to pieces and made into blouses and other items. I can even remember it being said that a wedding dress for a local woman had been made from such silk. Whether these parachutes had ever been used for their intended purpose I don't know. I certainly can't remember many flyers landing around our district with the aid of parachutes although in the early years of the war there was a lot of aerial activity in the district.
I would sit on the front step some nights with my mother and we would watch the searchlights picking out enemy aircraft and watch as the sky would light up with anti-aircraft gunfire. One night there was stick of bombs dropped not far from the house along the canal. I remember it being said by the grown-ups that the Germans probably saw the moonlight reflecting on the canal and mistook it for Newport docks. There was a great flurry of activity in the area as the ARP wardens and the bomb disposal teams went around the district dealing with them as they had time fuses and there was great fear that they had not all been located and that they would explode when nobody was aware that they were even present, although I never heard of any consequences of this local raid.
At this time, my father Anthony, was away on active service in the Royal Navy serving as a Petty Officer on the aircraft carrier, HMS Illustrious. He had volunteered to join the Navy as he had served in the Merchant Navy as had his father. I can remember when he occasionally came home on leave, he would take me to visit my paternal great grandparents in Pill. They lived very close to a fire station and my dad would take me in to look at the fire engine with its polished brass. Sometimes the firemen would sit me on the engine and let me ring the bell! On the way home he would carry me from the bus terminus all the way home on his shoulder.
I would look forward to his occasional visits as sometimes he would bring little jars of boiled sweets which he acquired from somewhere on his travels and of course, sweets were a luxury as they were heavily rationed. On one of his visits, he took me to see a football match at Newport county ground, this was one of the few times he took me anywhere apart from visiting relations although he did take me to visit a bomber which had been transported in pieces and reassembled in front of the Civic centre which at that time still had open ground around it. He was not impressed with the queue to get on board but eventually we succeeded and crawled along the inside of the fuselage until we got into the cockpit and I was able to sit in the pilot's seat. Patience was not one of Dad's virtues!
The American Army at Malpas Court
Sometime, probably around 1941/2, the British forces moved out of Malpas Court camp and the American Army took it over. There was an immediate change to the scene. Where British and Commonwealth forces had made do with living under canvas, the Americans transformed the camp to a small town. Nissen huts were erected to provide better accommodation and we soon got used to seeing very large American trucks on the roads with the steering wheels on "the wrong side". Besides cars and trucks, DUKW amphibious vehicles also made an appearance from time to time.
Generally, the GIs were very much more sociable than the British and were quite generous offering gum and other treats to the local children. My mother became quite friendly with a number of GIs who would bring beer (in metal bottles) to the house and would listen to AFN on the radio, reception of which wasn't too good – lots of crackles and fading. They would also bring offerings of food such as butter which was gratefully received if a little salty compared to what we were used to as by that time, butter from the farm was no longer available. My mother would in return give them some fresh eggs. The chickens did prove a temptation for some and she frequently refused to part with any as they fancied them for fresh food. In fact after several attempts at stealing them had failed, she rigged up a bell on a coiled spring connected to strong twine which would sound if anyone tripped over it in the dark or tried to open the door to the chicken run. She even went out in the dark one night with a broomstick and threatened to shoot somebody trying to get in the run. I suppose the shape of it resembled a gun barrel in the blackout!
In addition to the army, I can remember American sailors being at the camp although not very many and not for very long. One in particular, inevitably called Chuck (they were all probably called Chuck!) used to call at the house and he used to tell how he had chickens at home in the United States and he used to like to feed the chickens. There were frequent parties and dances held in both the drill hall and in Malpas Court. I can remember being taken into the mansion one day after a big party/dance had taken place and where so many people had been dancing in the large room upstairs, the whole floor had collapsed and from the ground floor, you could look straight up to ceiling in the room above!
Looking back on those times however, I realize how unfair the system was although it reflected contemporary thinking. When black troops were posted to the camp or "coloureds" as they were known, there was an immediate backlash in the local community. My Grandmother was outraged and my mother warned me never to speak to a black man. No reason was given to me other than they were not the sort of people we associated with although I heard my mother and grandmother make remarks suggesting that no decent white girl would be safe which of course at the time meant nothing to me. This discrimination was reinforced by the Americans themselves as the white GIs would have little to do with black GIs and there was from time to time considerable friction between to two factions. Nobody seemed to care that they were all soldiers fighting a common foe and that one life was as important and entitled to dignity and respect as another.
School Days
Around 1943, I started school at the primary school in Malpas Road. In case children were lost injured or killed as a result of enemy action, quite a number wore an identity bracelet – a little wrist strap with a disc on it rather like a watch which was engraved with name, address and National Identity number. Mine I recall was XNOP238/3.
The first classroom seemed to contain a large number of children and we would learn to write on a black slate with chalk. Painting was carried out with the aid of fish-paste jars to hold the water for the paintbrushes. In the cloakroom was the bell pull rope for the school bell which was never used as there was a ban on the ringing of all bells unless there was an invasion when they would be rung as a warning. My mother would tell me to run home at once if I ever heard the bells ring. When I told her I didn't know what they would sound like because I had never heard bells she turned the radio on and waited for a break in between the programmes when the BBC used to play the sound of Bow Bells and told me that's what ringing bells sounded like.
In my second classroom, there was a big slow combustion heater which was surrounded by a fireguard with a brass rail around the top which was always shining. On one occasion, when a pupil transgressed, I can recall him being lifted by the teacher on to the top of the stove and made to stand there as a punishment. Not easy as the diameter was quite small. (Fortunately, I would add, it was summer and the stove was in not use!).
Strange as it may seem by today's way of life, children of that age, would walk to and from school unaccompanied. There was little traffic apart from buses, the military and the regular vans seen from Weston's biscuit factory in Cwmbran, to pose any risk and from an early age it was instilled into us that children were more easily damaged than cars and to always follow the kerb drill. On my journey, I was always fascinated by the massive static water tank on Malpas Road near Westfield Drive which had been constructed on the grass area in front of the houses. It was topped by barbed wire and to many youngsters it provided a challenge to climb up to see the water. The penalty for this boldness was soon demonstrated when my friend Peter Jefferies got entangled in the barbed wire when he slipped and badly lacerated his arm resulting in a visit to the Royal Gwent. Sometimes when leaving school, we would go out of the Pillmawr Road gate to the shops – I believe one of them may have been a sub-post office. In the absence of sweets we would buy a penny (1d) Oxo cube and this would be sucked after peeling the wrapper back. I can't imagine how we could have enjoyed it. They certainly made you thirsty!
The End of the War
As the war went on, there were fewer troops to be seen as many had presumably been sent overseas to take part in the D-day landings and invasion. Then one evening, which was 7th May 1945, my mother announced that there was no need to draw the blackout curtains any longer as the war was over in Europe. To celebrate, a massive bonfire was built in the road approximately where Woodlands Drive is now. People brought jam jars with pieces of candle in them, lit them and they were placed along the wall to add some festive air to the scene. This exercise was repeated in August when the Japanese surrendered and VJ day was celebrated. Not long afterwards, Field Marshall Montgomery made a visit to Newport and came to the hotel opposite the station. The crowds in the street continually chanted "we want Monty" until he appeared at an upstairs window.
The area started showing signs of trying to get back to normal. Street lighting, meagre as it was started to be reinstated. The big well glasses of the Sugg gas lights were put back and mantles replaced in the lights in the Pillmawr Road area and further up towards South Lodge, the solitary electric lamp with the butterfly reflector near the Institute from which we collected cod liver oil and orange juice provided by the Ministry of Food, had a bulb put in it. The Corporation put light bulbs in the previously empty sockets on the buses so that at night time you no longer had to travel in near total darkness and vehicles which were on the road at night started using headlights instead of discs with slits in them.
Somewhere down the bottom end of Pillmawr Road, a lady called Mrs. Merrick or perhaps Merrit, started making and selling ice cream and I tasted my first cornet! People would take jugs to her house to collect ice cream although it probably wasn't too firm by the time they arrived home.
It didn't take long for the American camp to be vacated. They moved out leaving all sorts of items behind. The local children scavenged for soldiers' badges and adults for whatever they could find that was of use and very soon, a new use was found even for the Nissen huts themselves. Many people who had lost homes or were living in difficult circumstances took the opportunity to re-house themselves. The camp became a small community populated by squatters who remained in residence for some time. I am not sure how long because late in 1946 when my father returned home, he and my mother parted and were subsequently divorced.
My Move from Newport
My mother moved from Newport taking me with her, first living in Aberdare and then in 1947 to Bristol where I have lived since.
My recollections of the town (now City) are somewhat limited after that time although I did visit Newport quite regularly on brief visits in the 1960s as the area manager for a chain of electrical and TV retailers which operated a shop in the High Street. I had to deal with the aftermath of a huge fire which started in premises at the rear of the property and which spread throughout the block extending to properties in Skinner Street and Dock Street destroying some premises and affecting others by water penetration from the fire brigade's efforts to control the blaze. The heat generated was so intense that although our store was not affected by the fire itself, much of the plastic used for trims on radios, TVs, hi-fi's etc just melted. What stock was not damaged by heat, was ruined by water or smoke. The fire brigade had broken into our premises to gain access to the seat of the fire passing their hoses right through the building. The shop next door was Richard Shops, a ladies' fashion chain and the clothing just shrivelled on the hangers as a result of the heat.
My father worked in and around Newport for the rest of his lifetime. He had various jobs working at one time for the GPO as a linesman and later as a spiderman or steel erector. I can remember on a visit to Newport to see my Grandmother, coming out of the railway station and seeing him climbing on the steel skeleton of the new post office on the corner of the station approach. Seeing me in the street below, he stood high on a girder holding on with one hand and waving with the other. He later joined the Central Electricity Generating Board as a security officer where he was employed when he had his first heart attack. He was actively engaged with the Royal Navy Reserve and became the commanding officer of the Newport Naval Cadet Corps, T.S.Resolute, which under his guidance achieved the efficiency pennant for performance. When he suffered a second fatal heart attack in May 1967, he was given a guard of honour at his funeral by the cadets with whom he had spent so much time. He was subsequently cremated and his ashes were scattered at sea by the Royal Navy from HMS Whitby off the southwest coast of England.