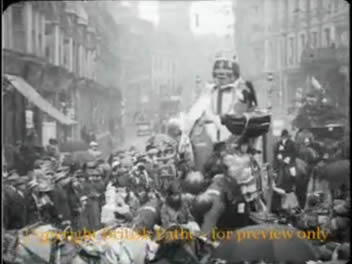 Click on image above to start video. It will open in a new window (or tab) - British Pathé website.
Close the window (or tab) after viewing to return here.
Pathe News Description:
Full titles read: "CARNIVAL AND FETE - in aid of Gwent Hospital."
L/S's of large crowds with umbrellas on a rainy day lining the streets as officials lead horse drawn floats by. L/S of float with large model of a King sitting on a throne. L/S of float dedicated to "The Great War and the Crimean War". Woman in fancy dress as nurses attend injured soldiers on the float.
L/S of people dressed as Roman soldiers defending their castle from invasion by preventing them from climbing onto the float! M/S of group of woman in various costumes holding balloons.
Commentary:
No soundtrack.
Comment:
The carnival is passing through Westgate square. Floats include: The Great War- The Crimean War - Progress in Hospital Work; All Pretty Girls Use Gas - Gas is Cheaper; South Wales Argus - Sports Argus - Football Argus - Weekly Argus. Not sure what the woman and man wearing headphones are doing at the end.